Smoking the Perfect Brisket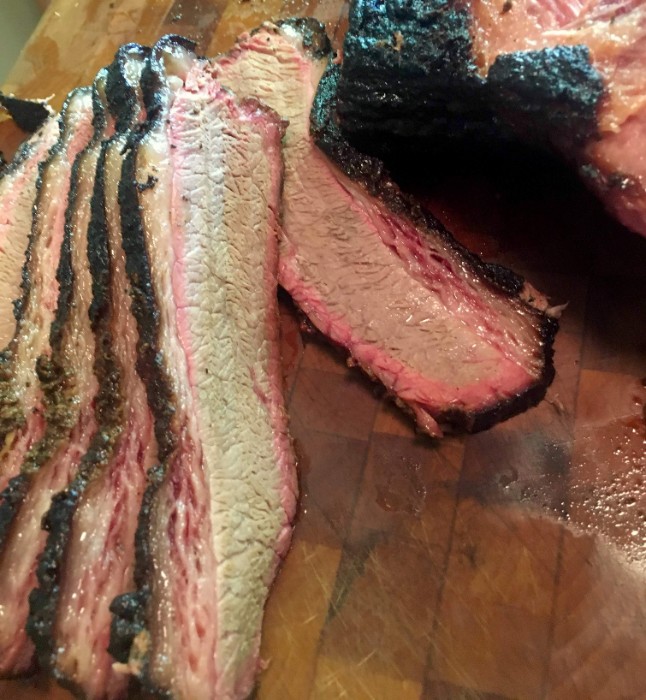 Just like all proper BBQ, smoking brisket takes patience. Depending on the size of your brisket it can take over 24 hours before it's ready to eat, so you really need to plan ahead for this one. We promise it's worth the wait, but if you're using the kitchen oven and not a smoker, make sure you won't need to access the oven for a while. Also, before following our guide below, make sure you apply dry rub as instructed in our Classic Texas BBQ Dry Rub recipe.

Brisket Size: 15lbs
Total Time: 15-18.75 hours

*If cooking a smaller or larger brisket, the total time should be adjusted that that it smokes for about 1hr 15min per pound in the smoker, or for about 1hr per pound in the oven.
In the Smoker
Fire up your smoker to a minimum temperature of 225°F. If using a water bowl or hydrator device, make sure these are included when bringing the smoker up to temperature. Allow the smoker to maintain 225°F for about 30 minutes, then place your prepared brisket on the BBQ rack fat side up, and smoke on indirect heat for about 9 hours 15min, or 60% of the time (saving 1-2 hours for the end).

Remove the brisket from the smoker and wrap in aluminium foil, or butchers paper. Smoke for about 7hrs and 30min, or 40% of the time.

Now that the brisket is close to being ready, unwrap it, place it back on the BBQ rack fat side up, and smoke for a final hour or two. This will firm up the bark and bring an end to your several hours worth of patience and effort.
In the Kitchen
Pre-heat the oven to 225°F. Line a dripping pan with foil and pour 2 cups of beef stock into the bottom.

Place your prepared brisket, fat side up, in a deep-dish cast iron pan and add some liquid smoke. We prefer STUBBS®, but any brand liquid smoke will do.

Cook uncovered for about 15 hours, or until the brisket is done.
Dog Tired Tips
Try to keep the temperature consistent and avoid opening the smoker or oven
Use a good temperature gauge to monitor the situation from the outside.
We don't recommend trimming your brisket, but if you must, be sure to reduce the smoking time.
BBQ Sauce can be added during the last hour of cooking.
To keep your brisket warm once it's done, reduce the heat to 105°F and make sure its wrapped up in foil or butcher paper so that it doesn't dry out.