Dew Drop Ranch Jalapeño Coleslaw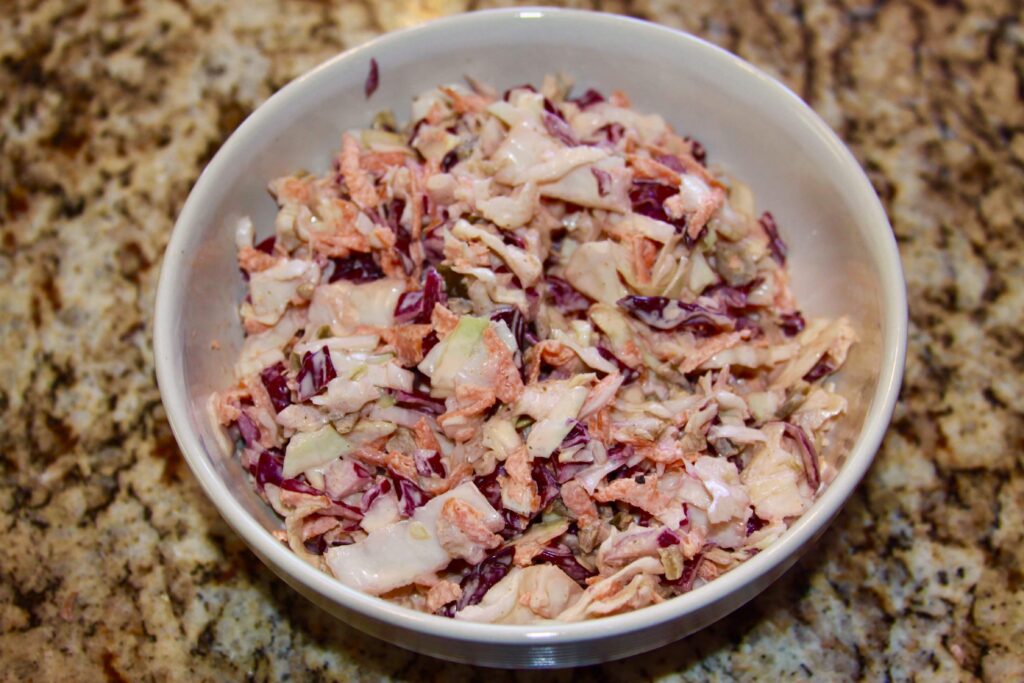 Coleslaw is to BBQ as peanut butter is to jelly. They just belong together. Some people eat is as a side, while others put it in a sandwich with their pulled pork. Either way, it is considered the most popular BBQ salad that exists. This version kicks it up a notch with some jalapeño heat.
Ingredients
1/2 Head of Green Cabbage, shredded
1/2 Head of Purple Cabbage, shredded
2-3 Large Carrots, shredded
2 Jalapeño Peppers
3/4 CUP Mayonnaise
2 TBSP Apple Cider Vinegar
1 TBSP Ground Mustard
2 TBSP Sour Cream
1 TBSP Sugar
Salt and pepper to taste
Directions
In a large bowl, combine the green and purple shredded cabbage with the shredded carrots. Mince the jalapeños and add them to mixture as well.

In a small bowl, make the dressing by whisking the mayo, apple cider vinegar, dry mustard, sour cream and sugar together. Season with salt and pepper to taste.

Slowly pour the dressing over the cabbage mixture, stirring as you go. Chill in the fridge for 1 hour, allowing the flavors to marinate, and toss once more before serving.
Dog Tired Tips
Remove the jalapeño seeds before mincing them for a more mild spice level.
Double the dressing recipe for a more creamy coleslaw.
If you don't plan on eating this coleslaw the same day, keep the cabbage mixture separate from the dressing until you're ready to serve. This will help to keep your cabbage mixture crisp.